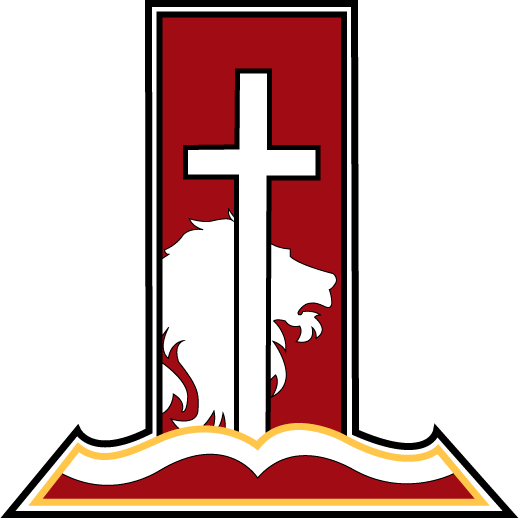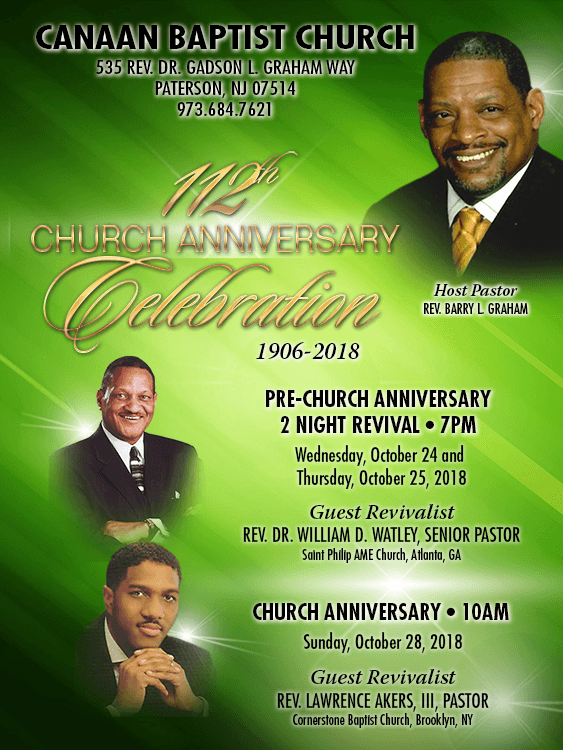 WE HAVE RESUMED BACK TO OUR REGULAR 2 SERVICES AT 7:30 am and 11:45 am
2 NIGHTS OF REVIVAL – October 24-25, 2018
Rev. Dr. Willaim D. Watley, Pastor of the St. Phillips AME Church, Atlanta, Ga.  will be our guest Revivalist
Sunday, October 28, 2018 – 10:00 am
112th CHURCH ANNIVERSARY
Our guest preacher will be Rev. Lawrence E. Aker, Senior Pastor of Cornerstone Baptist Church, Brooklyn, NY
Asking each member for a sacraficial gift of $1.00 per each anniversary year ($112.00)
Anniversary colors are black and green
Sunday, October 28, 2018 – 4:00 pm
Rev. Barry Graham will be preaching at Paradise Baptist Church, 348 15th Avenue, Newark, NJ for their 75th Church Anniversay where  Bishop Jethro James, Jr. is the Pastor
Sunday, November 4, 2018 – 4:00 pm
The Deaconess of Canaan will be hosting their Annual "The 12 Tribes" Program
Asking all to come out and support our Deaconess.
Saturday, November 10, 2018 – 4:00 pm
The Heart of a Servant Ministry (formerly Women's Ministry) will be hosting their Annual "Prayer Dinner".
Please see any member of the Women's Ministry for tickets and more information.

Sunday, November 18, 2018 – 4:00 pm
The Ushers and Nurses are hosting their Annual "Ushers and Nurses Day"
Educational Fund Committee Annual Fundraiser. They are selling greeting cards. Deadline for orders is Sunday, October 21, 2018 See any member for a catalog. Please support their efforts.
The Praise Dancers are selling Cinderella Cheese Cakes. See any praise dancer or their parent to place your order.
Please support our children in this fundraiser event.
SUNDAY MORNING WORSHIPCall To Worship
7:30am & 11:15am
Sunday School
9:30 am
PRAYER SERVICE
Wednesday Night Prayer Service
6:45pm – 7:15pm
Thursday Noon Prayer
12:00pm – 1:00pm
BIBLE STUDY
Wednesday Night
7:15pm – 8:15 pm
Canaan Baptist Church
535 East 22nd Street -- Paterson, New Jersey 07514
The Cannon Baptist Church - 535 East 22nd Street -- Paterson, New Jersey 07514